Exhibition «Hilos de Esplendor: Tapices del Barroco»
Collaboration CEEH - Patrimonio Nacional
12 March - 1 June 2008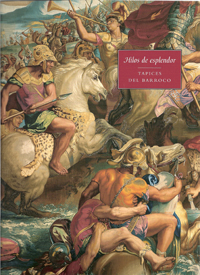 This international exhibition of works from more than twenty collections is the first comprehensive survey of the production of high-quality tapestries in the Baroque age.
The outstanding pieces on show mostly belonged to magnificent series woven for kings, popes and noblemen, and in this respect provide an incomparable insight into the role played by tapestry weaving in court art and propaganda.
It likewise traces the stylistic development of this prestigious artistic medium and explores the original and spectacular contributions produced by the leading artists in response to the challenges of the discipline.
The Centro de Estudios Europa Hispánica has contributed to the exhibition as a sponsor of the catalogue