Exhibition «The Spanish Line: Drawings from Ribera to Picasso»
The Courtauld Gallery, London
October 13th 2011 - January 15th 2012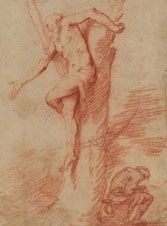 The exhibition The Spanish Line brings together 40 of the most representative of the hundred or so drawings owned by The Courtauld Gallery, many of them preparatory sketches for other works and dated between the sixteenth and the twentieth centuries.
The collection was begun in the 1840s by the Scottish Hispanist William Stirling Maxwell, who wrote the Annals of the Artists of Spain (1848), the first art history book illustrated with photographs. A substantial portion was later acquired by Robert Witt, who added to it before giving it to the Courtauld Gallery when he died in 1952.
The exhibition celebrates the publication of a full catalogue raisonné by Zahira Véliz, thus concluding a research project sponsored by CEEH.