Meadows Museum announces appointment of the Center for Spain in America (CSA) Curatorial Fellow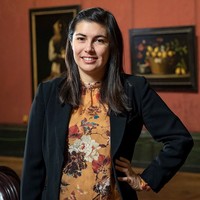 Akemi Luisa Herráez Vossbrink, a doctoral candidate at the University of Cambridge, UK, who has focused her research on the Latin American reception of works by Spanish Golden Age painter Francisco de Zurbarán, will join the institution for a one-year term beginning in September 2020 as the first Center for Spain in America (CSA) Curatorial Fellow.
The fellowship provides her with the opportunity to develop new scholarship in Spanish art drawing on the Meadows Museum's collections and gain professional experience in the curatorial department. Herráez Vossbrink's research has appeared in several publications, including the catalogue for the exhibition Zurbarán: Jacob and His Twelve Sons, Paintings from Auckland Castle, which was co-presented by the Meadows Museum and The Frick Collection in New York. Prior to accepting her new role at the Meadows, she served for nearly two years as the CEEH Curatorial Fellow in Spanish Painting at the National Gallery in London, where she provided curatorial support for the exhibitions Bartolomé Bermejo: Master of the Spanish Renaissance and Sorolla: Spanish Master of Light. 
In 1962, Dallas businessman and philanthropist Algur H. Meadows donated his private collection of Spanish paintings, as well as funds to start a museum, to Southern Methodist University. The museum opened to the public in 1965, marking the first step in fulfilling Meadows's vision to create "a small Prado for Texas." Today, the Meadows is home to one of the largest and most comprehensive collections of Spanish art outside of Spain. The collection spans from the 10th to the 21st centuries and includes medieval objects, Renaissance and Baroque sculptures, and major paintings by Golden Age and modern masters.