Symposium «Flemish tapestries in the XVIth century»
Museo del Prado
July 13-15, 2010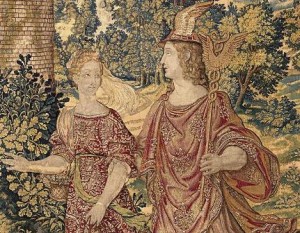 CEEH sponsors a three-day programme of lectures on the series of Mercury and Herse  at the Museo Nacional del Prado
In connection with the exhibition The loves of Mercury and Herse. A rich tapestry by Willem de Pannemaker, the Museum is organising a themed course, under the patronage of the Centro de Estudios Europa Hispánica, aimed at promoting knowledge of the art of Flemish tapestry in the 16th century and especially the figure of Willem de Pannemaker.
The specific content of the programme is developed by national and international specialists in the tapestry of the period.
The course is also intended to provide participants with knowledge of the conservation and restoration of tapestries, and to complete its insights there is a visit to Madrid's Royal Tapestry Factory.