The Center for Spain in America (CSA) promotes advanced study and public awareness in the United States of Spanish art and visual culture, also focusing on the history of the Spanish presence and the influence of Spanish art and culture on North America. CSA cooperates with universities, libraries, archives, museums and other educational or cultural institutions fostering academic excellence in the field of Spanish studies in the United States of America and supporting activities such as symposia, lecture series, exhibitions and publications.
The Center for Spain in America is registered as a not-for-profit organisation in the United States and is legally incorporated in New York State since 2009. Its activity is made possible, in part, by CEEH.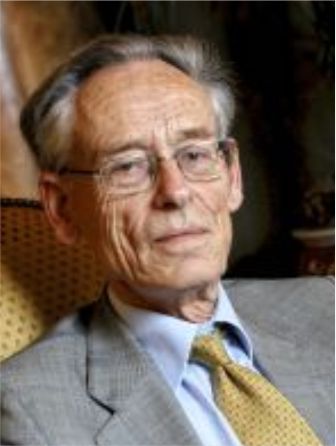 Sir John H. Elliott
Sir John H. Elliott (Reading, 1930 – Oxford, 2022 ) was Regius Professor of Modern History at the University of Oxford. He studied at Eton College and earned a doctorate in History from the University of Cambridge (Trinity College, 1952), and was a professor at the School of Historical Studies of the Institute for Advanced Study of Princeton for seventeen years. A corresponding member of the Royal Academy of History in Madrid and a member of the British Academy, he was also a member of the American Academy of Arts and Sciences and the American Philosophical Society. He has been awarded doctorates honoris causa from the universities of Barcelona, the Autónoma in Madrid, Valencia, Lérida, Genoa, Portsmouth, Warwick and Brown.
As a historian of Spain, Europe and the Americas in the Modern Age, he has made an essential contribution to current knowledge of Golden Age Spain and the Hispanic world. Prominent among his numerous works are Imperial Spain (1963), The Revolt of the Catalans (1963), The Old World and the New (1970), The Count-Duke of Olivares (1986), Empires of the Atlantic World (2006) and, more recently, History in the Making (2012). He is co-author together with Jonathan Brown of A Palace for a King (2nd ed., 2003) and has written Memoriales y cartas del Conde Duque de Olivares (2nd ed., 2013) with José Francisco de la Peña. He has been awarded various prizes, including the Prince of Asturias award for Social Sciences and the Balzan award for History.
See interview