The Center for Spain in America (CSA) promotes advanced study and public awareness in the United States of Spanish art and visual culture, also focusing on the history of the Spanish presence and the influence of Spanish art and culture on North America. CSA cooperates with universities, libraries, archives, museums and other educational or cultural institutions fostering academic excellence in the field of Spanish studies in the United States of America and supporting activities such as symposia, lecture series, exhibitions and publications.
The Center for Spain in America is registered as a not-for-profit organisation in the United States and is legally incorporated in New York State since 2009. Its activity is made possible, in part, by CEEH.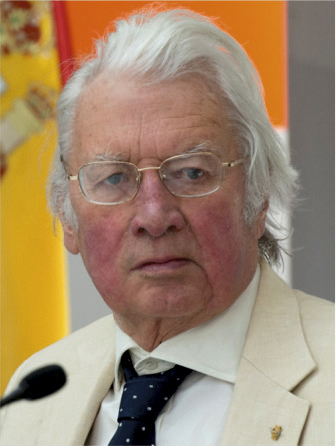 Hugh Thomas, Baron Thomas of Swynnerton
Hugh Thomas (Windsor, 1931) studied at Queen's College, Cambridge and at the Sorbonne in Paris. He was a civil servant of the British Foreign Office and taught at the Royal Military Academy Sandhurst and at Reading University. In 1981 he became a life peer as Lord Thomas of Swynnerton. Prominent among his works are Cuba, or the Pursuit of Freedom (1971),  La formación de Hernán Cortés (1992), The Conquest of Mexico (1993) I, Montezuma (1995), The Slave Trade: History of the Atlantic Slave Trade 1440–1870 (1998), The Revolution on Balance (1999), Rivers of Gold (2003), Eduardo Barreiros and the Recovery of Spain (2007), The Golden Age: The Spanish Empire of Charles V (2010) and World Without End: The Global Empire of Philip II (2013).
See interview