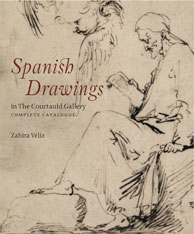 Spanish Drawings in The Courtauld Gallery
This catalogue presents a detailed scholarly account of the Spanish drawings in the collection of The Courtauld Gallery. Ranging in date from the sixteenth to the twentieth century and numbering over a hundred works, it is one of the most significant outside Spain. Many of the drawings were initially brought together by the great Hispanist and collector Sir William Stirling Maxwell (1818-1878) and were later bequeathed to The Courtauld by Sir Robert Witt (1872-1952). In addition to such celebrated artists as Ribera, Murillo, Goya and Picasso, the collection features a representative selection of drafstmen from the Golden Age of the Spanish art, including Francisco Pacheco, Vicente Carducho, Alonso Cano, Antonio del Castillo and Antonio García Reinoso. Many of these works have never previously been published and they are presented here in the light of important new research.
The catalogue includes reproductions and detailed scholarly analysis of the individual works as well as an essay on the history, theory and practice of Spanish draughtmanship and introductions to individual regional schools.
The publication of the full catalogue raisonné was celebrated by The Courtauld Gallery with the exhibition The Spanish Line: Drawings from Ribera to Picasso (October 13th 2011 – January 15th 2012), bringing together 40 of the most representative pieces in the collection.
The Centro de Estudios Europa Hispánica has sponsored this project during four years.
Catalogue by Zahira Véliz, with the collaboration of Edward Payne and Katharine Lockett.