Zurbarán and His Twelve Sons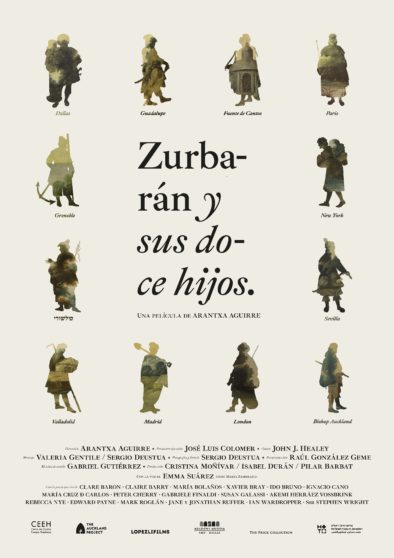 This documentary tells the story and meaning of Jacob and His Twelve sons, a series of thirteen canvases painted by Francisco de Zurbarán in Seville around 1640. Although it may have been meant for the Americas, nothing is known about these works until they were acquired at auction by the Londoner merchant James Mendez in the early eighteenth century. A few years later, in 1756, a significant gesture in the midst of debate over the emancipation law for English Jews was made by Bishop Richard Trevor of Durham, who obtained these paintings and hung them in his dining room at Auckland Castle, where they still remain. Today, thanks to the initiative of a financier from that area, Jacob and His Twelve Sons have become the engine of regeneration of a community in northern England.
During the renovation of its usual headquarters, the Zurbaráns have been exhibited in Dallas (Meadows Museum), New York (The Frick Collection) and Jerusalem (Israel Museum). Following this international journey, the film involves well-known scholars in Spanish painting, but also the promoters of an ambitious project that uses art as a tool for social transformation.
Arantxa Aguirre holds a doctorate in Spanish Literature and has published the books Buñuel, lector de Galdós (Pérez Galdós prize, 2003) and 34 actores hablan de su oficio, a sequel to her documentary Hécuba, nominated for a Goya film award in 2007. She has worked as assistant director to Mario Camus, Basilio Martín Patino, Pedro Almodóvar and Carlos Saura, among others. Prominent among her documentaries are the prizewinning El esfuerzo y el ánimo (2009), American Swan in Paris (2011) and Dancing Beethoven (2016) – the latter also nominated for Goya, Forqué and Platino awards – which have been shown in commercial cinemas in several countries. In 2020 she was named a full member of the Real Academia de Bellas Artes de San Fernando.
Presentation at the 2020 Seminci film festival
in Valladolid
Screenings at the Círculo de Bellas Artes
in Madrid
Director
Arantxa Aguirre
Script
John Healey with the collaboration of Jonathan Brown
Production
CEEH, The Auckland Project and Intervenciones Novo Film
Run time
72 minutes
D.L.
M-28206-2020
Audio
Spanish, English, Hebrew
Subtitles
Spanish, English
Date of publication
October 26, 2020