Cristóbal de Morales. Missa Mille regretz & Missa Desilde al cavallero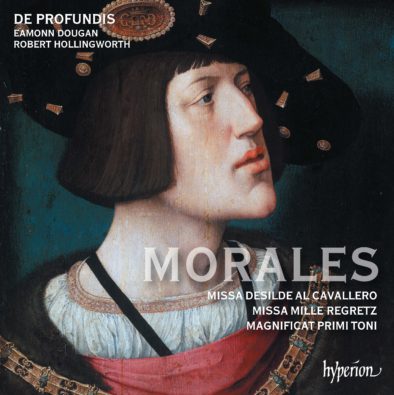 Cristóbal de Morales (c. 1500 – 1553) can rightly be regarded as the founding father of the famous Spanish Renaissance school, a group of composers that De Profundis has specialised in for many years. This CD is part of an ambitious 12-album endeavour by De Profundis to record all the Masses and Magnificats of Cristóbal de Morales for Hyperion Records conducted by Robert Hollingworth and Eamonn Dougan.
The first volume of the Morales Project consists of two Masses and a Magnificat that are likely to have been written in an early period of his career when he was still working in Spain, before he was employed by the Papal Choir at the Vatican in the 1530s. All three are based on music which his singers, and his audience, would have known well and show Morales as an already accomplished master of invention and variety.
The famous six-voice Missa Mille Regretz was probably intended to honour Charles V; the emperor liked the Josquin song on which it is based and Morales incorporated the sovereign's coat of arms in the initial of the Kyrie. Copied into the Vatican library between 1535-7, a new Sanctus and Agnus Dei were written for the 1544 printed version. Both versions are recorded here.
The Missa Desilde al cavallero survives in a manuscript in Milan that contains Masses by Josquin and La Rue, suggesting that it was possibly written before Morales arrived in Rome. It is based on a popular Spanish song that we know today from an intabulation by Diego Pisador (as performed here), a variation set by Antonio de Cabezón, and a complex and refined polyphonic quintet by Nicolas Gombert.
In his own time, and for a long time thereafter, Morales was best known throughout Europe and the New World for his Magnificats—a set of eight, each setting all twelve verses of the canticle, as it was sung in the papal chapel. Here we have the first part of the set, the Magnificat primi toni, restored to its Vatican completeness, as it was included in the initial 1542 print.
De Profundis, founded by Mark Dourish in 2011, is a vocal ensemble that performs Renaissance polyphony using adult male forces like the church and chapel choirs of the period: the top line sung by male altos, and the lower parts taken by tenors, baritones, and basses.
De Profundis conducted by Robert Hollingworth and Eamonn Dougan
In association with
CEEH
Production
Run time
80:06 min.
D.L.
CDA68415
Date of publication
March 2023
Price