Juan Esquivel. Missa Hortus Conclusus and other works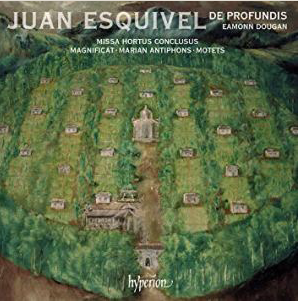 Juan Esquivel (c.1560/63 – 1624/30) ranks among the best composers of Spanish Golden Age, although he has languished in the shadow of better-known masters such as Morales, Guerrero and Victoria. Most of his music was thought lost for many years, hence its neglect; it was found again only in 1973 at Santa María de la Encarnación, Ronda, by the late Robert Snow. It is from his microfilm of the massive collection Psalmorum, Hymnorum, Magnificarum … et Missarum Tomus Secundus (Salamanca, 1613) that most of the items of this CD have been specially edited by Bruno Turner and are recorded here for the first time.

A native of Ciudad Rodrigo, Esquivel was a boy chorister at the cathedral of his hometown under Juan Navarro and became maestro de capilla successively at the cathedrals of Oviedo, Calahorra and Avila. He spent his mature life and career back in Ciudad Rodrigo, and with the support of bishop Pedro Ponce de León published three volumes of his music (1608 and 1613) including 12 Masses, 2 Requiem Masses, some 70 motets, 16 Magnificats, 31 Hymns, and Vespers Psalms plus Marian Antiphons.
This is the first album devoted entirely to the music of Juan Esquivel. The project was curated by Bruno Turner for De Profundis, here conducted by Eamonn Dougan, a distinguished baritone and assistant director of The Sixteen.
De Profundis, founded by Mark Dourish in 2011, is a hand-picked all-male vocal ensemble that performs Renaissance polyphony at the original low pitch. It is made up entirely of adult men, like the church and chapel choirs of the period.
In association with
CEEH
Production
Run time
69:19 min.
D.L.
CDA68326
Date of publication
March 2020
Price
£15,25