Tomás Luis de Victoria
Officium defunctorum. In obitu et obsequiis Sacrae Imperatricis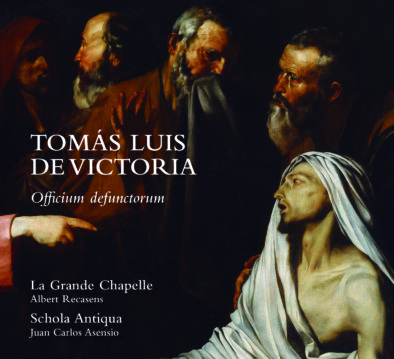 The Officium defunctorum by Tomás Luis de Victoria (1548-16119), published in 1605, is one of the masterworks of the musical Renaissance, which still moves us with its austerity and expressive power. It was written "in the style of a swansong" for the funeral rites of the composer's patroness, the empress Maria of Austria, sister of Philip II and widow of the emperor Maximilian II.
For the first time in a recording, La Grande Chapelle and Schola Antiqua place the work in its liturgical context, restoring the two original days: the vigil for the dead and the mass which concludes with the rite of absolution. The funeral rites celebrated in Madrid in 1603 are evoked, by means of respecting the original performing forces, the inclusion of the lection, the responsories and the psalms written by Victoria himself, and the use of plainchant taken from sources of the period. This reading brings us closer in a new way to one of the most important dynastic ceremonies of the Spanish Habsburgs of the beginning of the 17th century.