Sebastián de Vivanco. Missa Assumpsit Jesus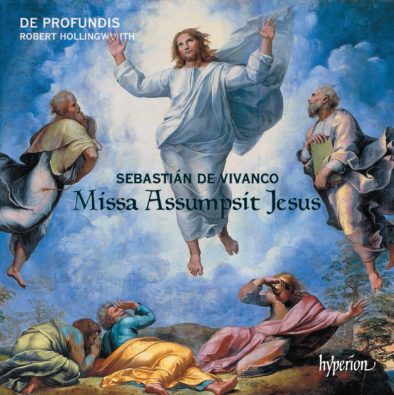 This album presents some of the finest music of Sebastián de Vivanco (1551? – 1622). With his contemporary Tomás Luis de Victoria he marks the last phase of Spanish Golden Age music, a flowering of Iberian genius represented in earlier generations by Peñalosa (b. 1470), Morales (b. 1500) and Guerrero (b. 1528).
Vivanco was born in Ávila and became a choirboy at the Cathedral around the same time as Victoria. Their teachers included Bernardino de Ribera, whose music features in another CD sponsored by CEEH. Eventually Vivanco settled at Salamanca Cathedral where he composed his greatest music. He found that rarity in Spain, a printer-publisher of music: Artus Taberniel (Arthur Tavernier of Antwerp), established in Salamanca as the University printer. In the early 1600s three great collections of Vivanco's music saw the light of day.
This album is the second release by De Profundis, following their Ribera issue in 2016. Most of the music has not previously been recorded at low pitch, and this is the premiere recording of the Magnificat. Sung by this all-male Cambridge-based ensemble, the aim is to recapture the luminous sound that might have been heard in the Cathedral at Salamanca.
De Profundis, founded by Mark Dourish in 2011, is a hand-picked all-male vocal ensemble that performs Renaissance polyphony at the original low pitch. It is made up entirely of adult men, like the church and chapel choirs of the period.
In association with
CEEH
Production
Run time
70:49 min.
D.L.
CDA68257
Date of publication
July 2018
Price
£10,50