Bernardino de Ribera. Magnificats & Motets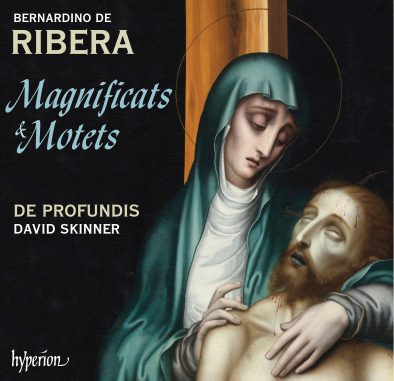 This recording, sponsored by the CEEH, is the first opportunity to listen to practically all the surviving music of Bernardino de Ribera (c. 1520–1580), who was chapel master at Ávila, Toledo and Murcia cathedrals and had an early  influence on his pupils Tomás Luis de Victoria and Sebastián de Vivanco. His rich polyphony retains a strong flavour of earlier styles, often venturing into the expressive use of falsas, that Spanish way of "weeping in sharps and flats".
This is the first album released by De Profundis. It was recorded at St George's church in Cambridge and is made up almost entirely of unpublished pieces. The group's director, David Skinner, is currently one of the most prominent scholars and conductors of early music. Bruno Turner – who had been wanting to publish the music of this fascinating, little-known maestro for a long time – has reconstructed and edited all the scores from badly damaged Spanish sources.
De Profundis, founded by Mark Dourish in 2011, is a hand-picked all-male vocal ensemble that performs Renaissance polyphony at the original low pitch. It is made up entirely of adult men, like the church and chapel choirs of the period.
Concert in the Cathedral of Toledo
Concert program and notes
In association with
CEEH
Production
Run time
76:53 min.
D.L.
CDA68181
Date of publication
May 2016
Price
£10,50