Dibujos de Rosario Weiss (1814-1843)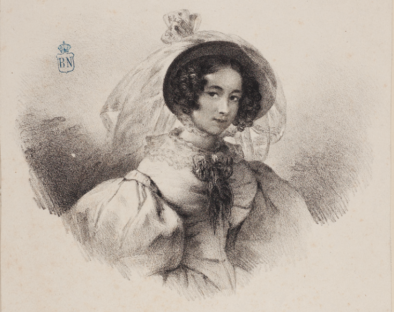 This exhibition features more than a hundred drawings by Rosario Weiss (Madrid, 1814‒1843) as well as a few prints and paintings. It sets out to show the work of an outstanding draughtswoman who is better known for her relationship with Francisco de Goya (1746‒1828) than for her artistic career.
Weiss lived with her mother Leocadia Zorrilla and Goya on the Quinta del Sordo estate from 1820 to 1824 and subsequently in Bordeaux, where the family remained until 1833. She was introduced to drawing by Goya, who made sketches for her to copy or complete until around 1825, when she enrolled at the public drawing school run by Pierre Lacour (1778‒1859) in the city. Her French training tempered the expressiveness of the early drawings she made with Goya, steering her towards the precise, clean and ordered style reminiscent of Ingres that prevailed in France at the time.
Back in Madrid, she pursued a short but intense career, combining the copying of Old Master paintings with pencil portraits of writers and prominent members of the liberal bourgeoisie. Weiss – who was furthermore an excellent lithographer – also sketched plants and trees from life, as well as idealised landscapes with castles, lakes or ruins.
Weiss was one of the few women to join the San Fernando Royal Academy of Fine Arts – as an academician of merit for History Painting – and she achieved her highest distinction in 1842 when she was appointed as drawing instructor to Isabella II and her sister, the Infanta Luisa Fernanda. She held this post for a very short time, as she died of cholera the following year.
The exhibition, curated by Carlos Sánchez Díez, brings together works from the Biblioteca Nacional, the Museo Lázaro Galdiano, the Bibliothèque municipale de Bordeaux, the Museo del Prado, the Museo del Romanticismo and private collections, together with pieces from other museums and Spanish public institutions.
See catalogue
See news about the exhibition
Carlos Sánchez Díez presents the exhibition