Valentín Carderera (1796-1880). Dibujante, coleccionista y viajero romántico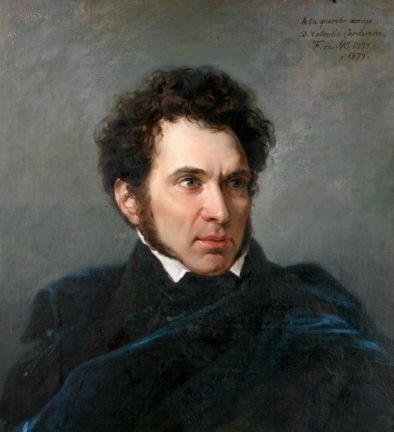 Venues
Madrid, Biblioteca Nacional de España, 27/9/2019 - 12/1/2020
Curators
José María Lanzarote Guiral
Organizers
Biblioteca Nacional de España and CEEH
This exhibition reveals the many sides of Valentín Carderera y Solano (Huesca, 1796 – Madrid, 1880), a painter, collector, bibliophile and traveller who also excelled as a communicator and as a scholar of Hispanic art. He was involved with the main circles and institutions of his period and contributed with his work to laying the ideological foundations of the new liberal order by fostering the arts and history.
Drawings, particularly of monuments, are a key component of his corpus; they combine art and erudition, as he put his artistry to the service of his scholarly undertaking to document and protect national heritage. Portraits, which also account for a significant portion of his output, played a huge role in his erudite endeavour: Carderera took it upon himself to study the iconography of distinguished men and women in Spanish history, publishing the results in Iconografía Española, a national pantheon on paper. In addition to this concern with recovering and vindicating the past, he was a keen collector and book lover, and this passion led him to become, for example, one of the main owners of drawings and prints by Goya, as well as an expert on his work.
Although his artistic training was based on the precepts of academicism in Madrid and Rome, Carderera was partly responsible for introducing the Neogothic style to Spain. He made many trips around the Iberian Peninsula, drawing monuments and folk types, spurred by his ethnographic interest in costume and customs, then considered the very essence of Spanishness. The desire to explore the roots of national identity marked his artistic and scholarly work, as well as that of his close Friends Federico and Pedro de Madrazo and Pascual de Gayangos, and also that of Genaro Pérez Villaamil, on whose España artística y monumental Carderera collaborated. Besides travelling around Spain, he stayed in Paris and London, where he established fruitful relationships with Richard Ford, Owen Jones, Prosper Mérimée and Eugène Viollet-le-Duc, among others.
This exhibition, which features more than 100 pieces, including paintings, engravings, manuscripts, books, maps and objects, is designed to play well-deserved tribute to a man who left a deep mark on the Biblioteca Nacional de España: in 1867, when the state acquired the collection of drawings and prints assembled by Carderera, the library's fine arts section was enriched with over 45,000 works, among them engravings by Mantegna, Dürer and Rembrandt, and one of the few drawings attributed to Velázquez.