Carreño de Miranda. Dibujos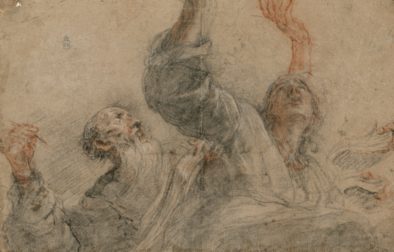 Venues
Madrid, Biblioteca Nacional de España, 18/5/2017 - 11/9/2017
Curators
Cristina Agüero Carnerero
Organizers
Biblioteca Nacional de España and CEEH
The Biblioteca Nacional de España (BNE), in collaboration with the CEEH, brings together for the first time the most outstanding examples of the graphic output of Juan Carreño de Miranda (1614-1685), whose production of drawings has not been studied in detail until now. The works on paper of this Spanish painter, by whom the BNE owns the largest collection, will be shown alongside those of other artists active in Madrid in the final decades of the seventeenth century, particularly Francisco Rizi, who collaborated closely with him on several decorative projects.
A group of approximately 60 drawings belonging to Spanish and foreign collections, both public and private, are displayed together with several oil sketches in order to highlight the important role of drawing in the creative process of court painters and their development of joint undertakings.
The exhibition is curated by Cristina Agüero, doctoral student at the UNED in Madrid, who is the main author of the catalogue that accompanies it. Mark McDonald, curator of the Department of Drawings and Prints at the Metropolitan Museum in New York, contributes to this publication with the opening essay.
News about the exhibition in Madrid
See catalogue
Installation