Hijo del Laocoonte. Alonso Berruguete y la Antigüedad pagana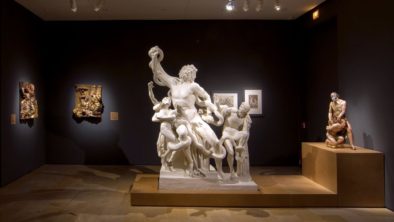 This exhibition examines the 'pagan soul' of Alonso Berruguete (1490‒1561) – his personal blend of Christian art and the sensuality of classical statuary. As a young man, the first Spanish Renaissance sculptor spent a long and fruitful period in Italy from 1506 to 1518. There he came into contact with Michelangelo, Raphael and Bramante, and espoused the productive dialogue between pagan myths and Christian devotions from which European humanism drew.
Rome and its landscape of classical ruins and remains (Laocoön had recently been unearthed) were a 'natural museum' of Antiquity which fired Berruguete's imagination and spurred him to explore the path of a less placid Renaissance more distant from the 'calm greatness'. The Museo Nacional de Escultura presents the artist as one of the founders of this 'wild streak' in Spanish art which is recognisable in Ribera's Furies and Goya's hallucinatory world.
CEEH and the Center for Spain in America (CSA) are contributing to this exhibition by sponsoring the catalogue.