Hilos de esplendor
Tapices del Barroco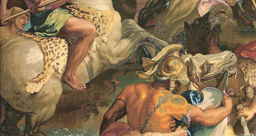 The exhibition displays a selection of nearly thirty tapestries of the 16th and 17th centuries, woven in different European manufactories: Paris, Mortlake, Florence, Rome, Gobelins and Beauvais. It is the continuation of the exhibition of Renaissance tapestries held in the Metropolitan Museum of New York. It includes pieces such as the Triumph of the Church over ignorance and blindness from the series Apotheosis of the Eucharist, together with other examples of the production of Peter Paul Rubens in Flanders.
Thomas P. Campbell has been director of the Metropolitan Museum of Art since 2008, after holding the post of curator of the Department of European Sculpture and Decorative Arts. His studies in this field have led to the major exhibitions Tapestry in the Renaissance: Art and Magnificence (New York, 2002) and Tapestry in the Baroque. Threads of Splendor (New York, 2007; Madrid, 2008).
CEEH and the Center for Spain in America (CSA) are contributing to this exhibition by sponsoring the catalogue.