Sorolla: Spanish Master of Light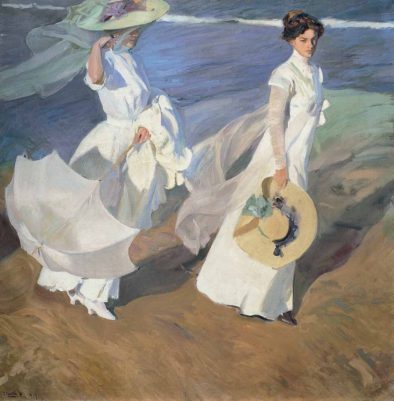 This is the first United Kingdom retrospective of the artist since 1908. It features fifty eight works, including important masterpieces on loan from public and private collections in Europe and the United States. One third of the pieces have been lent by the Museo Sorolla in Madrid. The exhibition includes portraits and genre scenes of Spanish life, as well as the gardens, landscapes and beach scenes for which he is most renowned.
The first room includes portraits of his wife and children. The second room focuses on the 1890s, when Sorolla launched his career with a series of monumental canvases concerned with the realities and hardships of Spanish life. The third room shows how Sorolla saw himself as belonging to the great tradition of Spanish artists such as Velázquez and Goya, whose distinctive palette of blacks, greys and creams he often adopted. The fourth room celebrates Sorolla's love for sunlight and the sea, and several works document the mixture of leisure and work he witnessed on beaches close to Valencia. Room five contains studies for Sorolla's commission for the Hispanic Society of America in New York, Visions of Spain, documenting the country's regional dress, ocupations and traditions. The sixth room is devoted to his views of landscapes and gardens. The final room highlights Sorolla's fascination with depicting his family in large canvases painted out of doors.
The exhibition will be on view at The National Gallery of Ireland, Dublin, from August through November 2019.
Christopher Riopelle presents the exhibition
News about the exhibition