Manet and Astruc. Friendship and Inspiration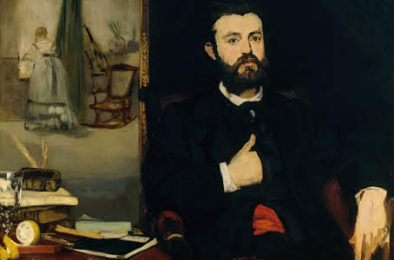 Venues
Kunsthalle Bremen, 23/10/2021 – 27/02/2022
Curators
Dorothee Hansen
Organizers
Sponsors
CEEH, Karin und Uwe Hollweg Stiftung, Kultur Stiftung der Länder, Wirtschaftsförderung Bremen GmbH, Ernst von Siemens, Die Sparkasse Bremen, SWB, Citipost, Bremen Neu Aktionsprogramm Innenstadt
Manet and who? Édouard Manet (1832–1883) is one of the most famous painters of the 19th century. Zacharie Astruc (1833–1907), however, is almost unknown as an artist today. Initially he made a name for himself as an art critic: he was the first to publicly defend Manet's works. In the 1860s Manet painted him several times. With the Portrait of Zacharie Astruc of 1866, which is a part of the collection of the Kunsthalle Bremen, Manet created a programmatic statement on the taste of the avant-garde.
Everything the two loved and discussed is contained in the painting – Japonism, Spanish fashion, the art of the Old Masters and music. The exhibition at the Kunsthalle Bremen explores the shared interests of the artist friends and presents masterpieces by Manet alongside surprising paintings, sculptures and watercolours by Astruc. Paintings of well-known contemporaries such as Henri Fantin-Latour, Claude Monet und Pierre-Auguste Renoir illustrate the wider artistic context.
This exhibition is the latest chapter in a series of major exhibitions at the Kunsthalle Bremen on nineteenth-century painters, such as Vincent van Gogh, Claude Monet, Gustave Caillebotte and, most recently, Émile Bernard. A focus on the museum's own holdings and new scholarly insights have elicited an enthusiastic response from the public. The Musée d'Orsay in Paris, the Metropolitan Museum of Art in New York and many other important collections are supporting the exhibition with major loans.
The CEEH sponsors the English version of the exhibition catalogue.